Bed Bugs Don't Stand A Chance
Bed bugs are resilient creatures that have made a big comeback in the Southeastern U.S. in the past decade or two. Nearly eradicated about a century ago, bed bugs are now as big a threat as ever. You can pick them up and bring them home with you anytime you venture out in public, and once they get into your house, they won't leave without a fight. Let Custom Pest Control fight back. Our 25 years of experience in bed bug control in Northern Alabama means bed bugs don't stand a chance!
Our Bed Bug Control Process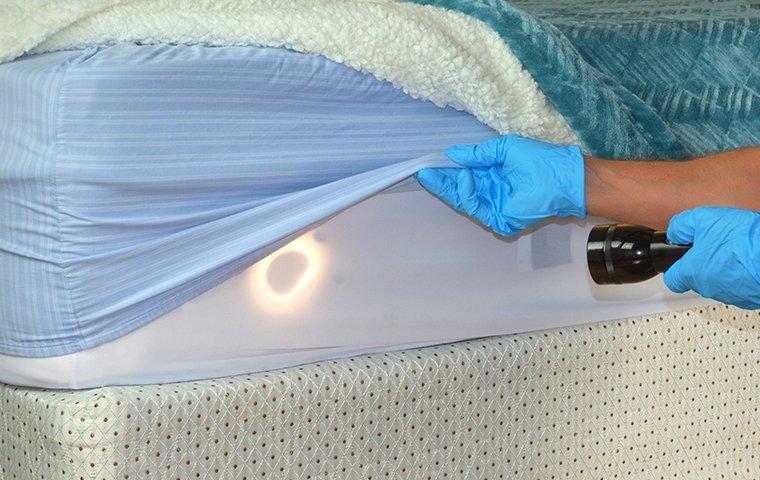 Inspection
Custom Pest Control utilizes the latest in technology to provide our customers with accurate and detailed bed bug inspections. We use FLIR cameras, UV lights, and electronic bed bug detectors to find even the smallest infestations. If you have bed bugs in your house, we will find them.
Pre-Treatment
Before we perform your bed bug treatment, we'll provide you with a pre-treatment checklist. This list includes all the things that you need to do to prepare for your bed bug treatment. If you are unable to do the prep work, we offer a service to take care of it for an additional charge.
Treatment
Our initial bed bug treatment takes an average of four to six hours for a 1500 square foot home. We use a combination of liquid and dust applications throughout your house. Some, but not all, of the areas we treat include bed frames, electrical outlets, and furniture.
Follow-Up
We perform follow-up treatments weekly until all bed bugs are gone.
Warranty
We warranty one-time bed bug services for 30 days after treatment. If you are on a general pest control plan, we warranty our bed bug service for as long as you're on that plan.
Rest Easy With The Help Of Custom Pest Control
No one likes the thought of bed bugs getting into their home and crawling on them in the middle of the night, and it can be hard to spot bedbugs in your home, however it happens, and when it does, the sooner you take action, the better. By contacting Custom Pest Control to eliminate your bed bug infestation, you'll rest easy knowing that we have the experience, equipment, and knowledge to eradicate the bed bugs in your home. Contact us to schedule an inspection today for bed bug control or for information on our general home pest control.
Request Your Free Inspection
Complete the form below to schedule your no-obligation inspection.