Are Termites Eating You Out Of Your Northern Alabama Home?
Termites are bad news for Huntsville homeowners. They cause over five billion in damages to structures in the United States every year, and since identifying and detecting termites can be difficult, they often go unnoticed for months or even years. Regardless of whether you have an active infestation or not, termite protection is a must in order to keep your home secure. Custom Pest Control can help.
Our Termite Control Offerings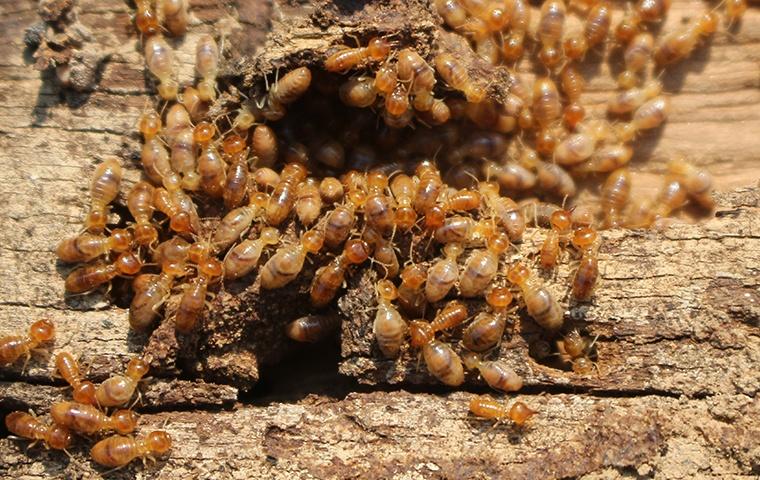 Inspections
If you suspect that you have a termite infestation, having trained professionals perform an inspection is a wise decision. We know the subtle signs to look for, and we have access to technology that the average homeowner does not.
Custom Pest Control uses infrared scanners and FLIR cameras to identify termite activity. If you have a termite infestation, we will find it. After we've gathered data, we'll present you with a written report and suggest a treatment plan based on our findings.
Treatment
Custom Pest Control is an authorized applicator and maintainer of Termidor liquid termite treatments. We trench Termidor into the soil around the foundation of your home, where it forms a barrier of protection that is undetectable but lethal to termites. This treatment comes with a one-year warranty that is renewable and transferable.
Wood-Destroying Insect Reports
If you are in the process of buying a home, many lenders require that you have a wood-destroying insect inspection and report (WDIR) written up and filed. Even if your lender doesn't require it, a WDIR will help avoid unnecessary and costly surprises once you move in.
Most Real Estate Closings require an inspection from a licensed-Bonded Termite Company. This report must be completed prior to 30 days of your Closing. This report is sometimes referred to as a TERMITE LETTER or a CLOSING LETTER. This report identifies any visible signs of an Active or previous infestation of:
Eastern Subterranean Termites
Dry Wood Termites
Wood Decay fungus
Powder Post Beetles
Old House Borers
At Custom Pest Control, we will provide you with:
A prompt inspection of your property
A written diagram of the Structure
An Official Alabama Wood Infestation Report:
If any problems are found, a written estimate to correct any deficiencies
24 Hr phone number for EMERGENCY CLOSINGS
Free Pest Control Service (performed up to 90 days after close)
Protect Your Huntsville Home With Custom Pest Control
Termites thrive in the northern Alabama climate, but they don't have to thrive on your property. With termite control from Custom Pest Control, you can eliminate any active termite colonies on your property, while also protecting it from future infestations. Don't leave your home at risk! Contact us to schedule an inspection and protect your Northern Alabama home from destructive pests with the help of Custom Pest Control.
Request Your Free Inspection
Complete the form below to schedule your no-obligation inspection.