Safeguarding Your Northern Alabama Home From Pest Infestations
The health and safety of your family is always your top priority, but pests put both at risk. Avoiding a pest infestation is the best way to protect your family from the dangers common Northern Alabama pests bring, but even if you already have an active infestation, Custom Pest Control can help. We offer residential pest control services to eliminate problem pests and keep your Northern Alabama home pest-free moving forward.
Our Seasonal Pest Prevention Program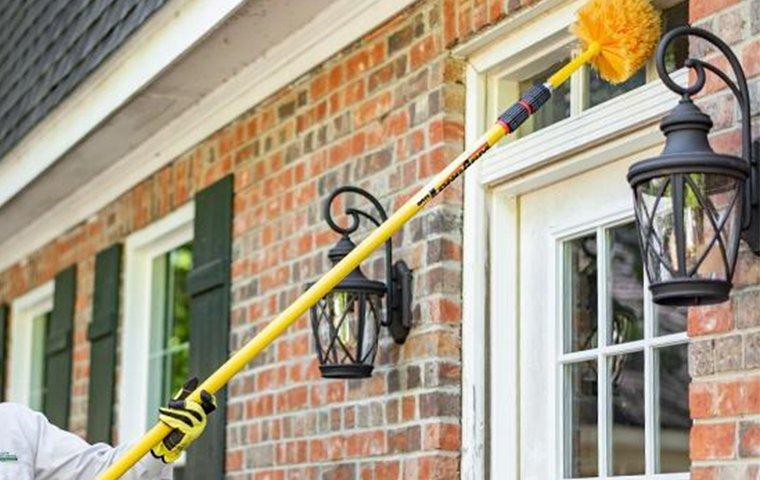 When our service technician arrives at your home, we will begin by completing an inspection of your home and surrounding property. We will identify weak areas around your home where pests reside. We can control most pests by sealing up entry points and applying products around the perimeter of your home, eliminating problems before they become a pest to you. Our technicians are experienced and trained to search out the source of the infestation and plan an attack that will eliminate pests as quickly as possible.
Advantages to our service:
Seasonal Inspections and treatment eliminate pests before they become a problem
We walk around your home an average of 7 times at every service
We will sweep down cobwebs around eaves and perimeter
Residual liquid treatment applied to windows and doors and other entry points
6-month residual product placed around the bottom of your property close to the drip line of your roof
Bait Station placed around perimeter to control over 40 insects
Rodent Station/Monitor will be placed to eliminate problems before they get inside
Insect Growth Regulators placed on the exterior of the property to prevent colonization of insects
Future services will be automatically serviced seasonally (every 3 months) to maintain most efficient barrier
We strategically place all our products in areas which maximize exposure to the pests but limit exposes to people and pets
24 hour online access to your account
Text your tech – you have a direct line to your technician who will handle any additional needed services at no charge
All our technicians are equipped with body cams that record their daily activity at your home. Our service vehicles are also equipped with advanced GPS and dash cameras. These features allow us to ensure safety and accountability while we are servicing your home. All employees are required to undergo background screening/drug testing and are well compensated for their high-quality work.
First Service
On your initial service, your technician will find the weak areas around your home where pests reside. We can control most pests by sealing up entry points and applying products around the perimeter of your home, eliminating problems before they become a pest to you.
Continued Protection Each Season
After you sign on for service, one of our technicians will visit your property and service the outside of the structure each season. Our treatments will vary slightly based on the season to accommodate pest behavior.
During winter, most insects survive by escaping the cold outdoors, taking advantage of the shelter your home provides. During this period, your technician will apply baits, dusts, and other dry formulations, attacking the pests before they make your house their home. Rodent infestations are most common during the winter; luckily, we've got that covered as well.​
When insect activity starts to ramp up again in the spring, your technician will apply Insect growth regulators to prevent any newborn nymphs from becoming adults. Spring is the only effective time to bait for ants, so we use granule bait during this period to ensure they never get a foothold on your lawn.
Summer is the heaviest activity period for pests across the board. That's why we bring out everything we have during the summer months to keep pests at bay. Luckily, depending on how long you have had our continued service, the pest population during summer will become less and less with each passing season. ​
While some pests decline in activity during the fall, others will experience a late hatching season, so we'll address these issues as necessary. However, our primary mission during fall is to check for and seal any cracks or crevices that could create entry points for pests. We'll also eliminate any potential nesting areas that pests may have created for the looming winter season. For this reason, insect growth regulators are an important part of this preventative service in the fall.
Unfortunately, pests never really quit, no matter the time of year. The good news is that there is a solution: year-round protection can ensure your home stays pest-free no matter the season. Contact us today and find out why one of our year-round pest management programs is the perfect solution to protect your home from pests!
Follow Up Services
Your property will receive a comprehensive service to the outside of the structure every 3 months. The products that we use will continue to be effective for 3 to 6 months, killing bugs even when your technician is not there. We get the bugs out and keep them out. If an inside service is needed, then an appointment will be made to complete that service at no additional charge.
Already have a problem?
Our technicians are trained to search out the source of the infestation and plan an attack that will eliminate these pests in as short of a time as possible. Sometimes this means more frequent services. Our service technician will let you know how often we need to return. Your initial service includes all services required for the first 3 months. Any additional services are completed at NO EXTRA CHARGE to you. We do what is required to control your pests for the entire year. Our Service is GUARANTEED. If you have any problems, then just give us a call and we will return and solve the issue at no cost to you.
Pests Treated Include:
Roaches
Ants
Spiders
Pill Bugs
Sow Bugs
Stink Bugs
Rodents
Pantry Pests
Crickets
Earwigs
Silverfish
Snails and other occasional invaders.
What is not included are any Stinging, Biting or Wood Destroying insects. We do treat these, but each has a one-time treatment price depending on infestation and is warrantied to stay gone for as long as you continue your Seasonal Protection Plan. Please call for more info if you have Fleas, Ticks, Bed Bugs, Brown Recluse, or Termites.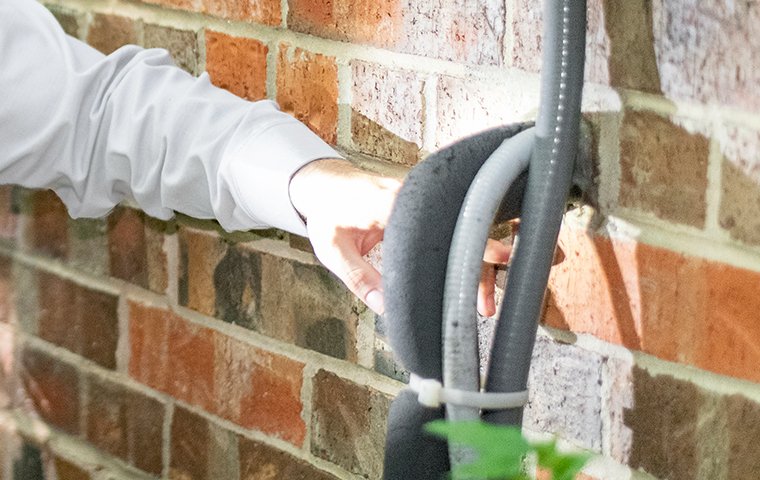 Inspection
We believe in order to provide you with effective treatments, we must know all the factors contributing to your pest problems. Our thorough inspection process allows us to gain a clear picture so we can develop a plan tailored to your needs.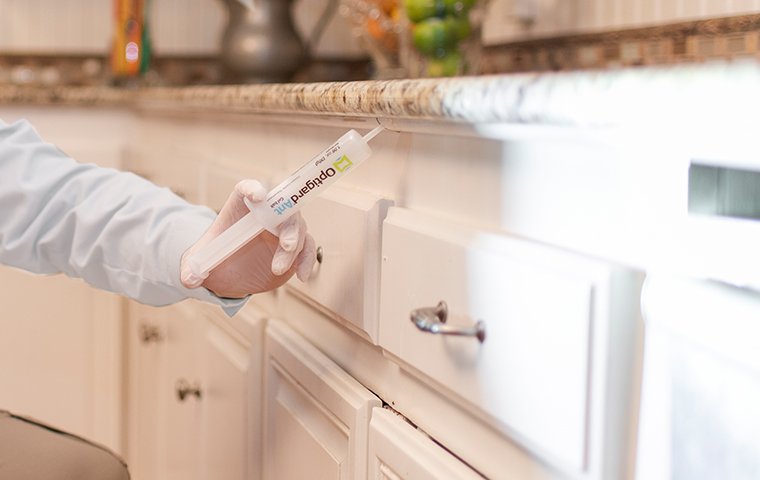 Treatment
Your initial service visit includes a detailed treatment of both the interior and exterior of your home. Our treatment methods will vary based on the findings of our inspection and the custom treatment plan we develop for your home.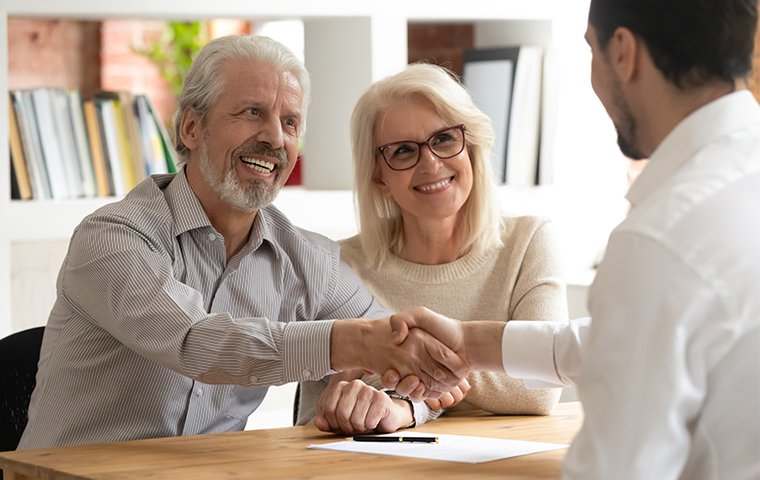 Follow Up
At Custom Pest Control, we continually evaluate the service you receive to make sure that it remains effective at eliminating pests and preventing future infestations. We'll develop a follow-up schedule based on our findings.
Pest Service for Huntsville, AL
Sometimes you don't plan on staying at a location very long and just want to get rid of the bugs while you are there. Maybe you're a landlord and want to provide a clean-out service before new tenants move in, but don't want to commit to a long-term service plan. Whatever the reason that you don't want to eliminate the bugs long-term, this program is for you. Each service is designed to control the insects for 30 days. NOTICE: To provide a relative pest free environment requires several consecutive treatments. Each additional service performed within 30 days qualifies for a 50% discount. See pricing plans above.
ADD ON SERVICES
Fleas – $75 Add on Service up to 2000 Sq ft, $25 for each additional 1000 Sq Ft.
Up to 2000 Sq Ft of structure treated with several products designed to control the Eggs, Larva Pupa and Adult. This is a onetime service which is warrantied for 6 Months with a Seasonal Service Protection Plan. Treatments recommended during the Spring and Fall for optimal control.
Bed Bugs, and other biting insects. – $25 evaluation, Fee Waived for Current Customers.
Price varies according to infestation. Our Biting Bugs service is the most comprehensive service available which has achieved a 100% success rate. We have never had a case that we could not gain control. Call us for more details. Our Biting insects and Bed Bug Service is GUARANTEED.
Rodents: $5 to $25 per station
A one-time bait installation fee is charged to cover the cost of the Rodent Bait stations, and then they are monitored and maintained with your Regular Service at no additional cost. Mice Bait Stations are $5 each and Rat Stations are $25. This is a one-time fee for installation.
Termites or other wood destroying insects – Free Evaluation
We provide a free evaluation for these pests. With varied construction types, it is virtually impossible to price a treatment without having specific knowledge of your structure. Please call for the most advanced treatment methods available. We will provide you with an Inspection, Diagram of your structure, Pictures from attic and crawl and any evidence we find. We will leave you a written estimate of what we feel needs to be competed to protect your home.
Our Specialty Pest Control Options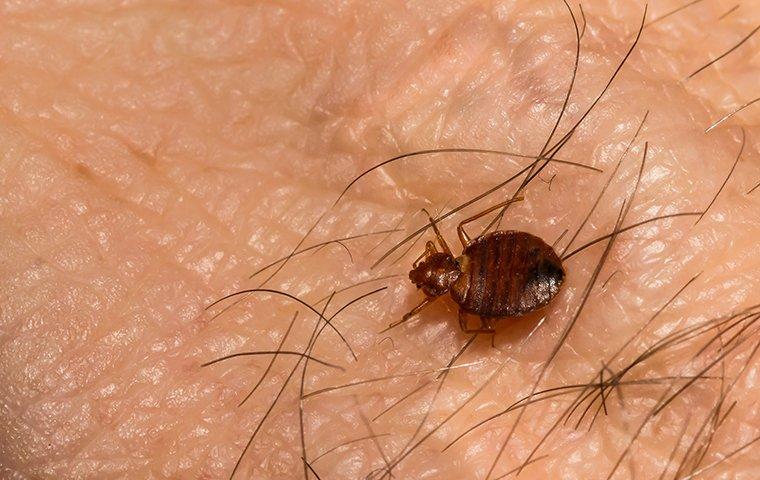 When a particular pest is causing trouble in or around your home, you need a specific solution. Custom Pest Control offers specialty services to treat a number of pests on a standalone basis.
Our specialty pest control plans include the following options:
Bat Control From Custom Pest Control
If bats have gotten into your home, Custom Pest Control can help! We install one-way doors that allow bats to leave your house while making them unable to get back inside.
Please note: Brown bats and gray bats are off-limits during their May through August nesting season. During this time, we are restricted by law to perform any exclusion work.
Customized Pest Control You Can Trust
At Custom Pest Control, we believe that no two homes can be treated in the same manner. When you choose us for your pest control needs, we'll customize a plan to solve your specific pest problems, then work with you to make sure that the plan is continually evaluated so that it stays effective. We provide pest control solutions you can trust for your Northern Alabama home.
Request Your Free Inspection
Complete the form below to schedule your no-obligation inspection.