Something Unseen May Be Affecting Your Health
We all know that mold can be extremely dangerous to our health, but often homeowners are unaware of its presence. Mold doesn't only grow in steamy bathrooms; if you have a crawlspace under your house that collects moisture, you may currently have or might end up with a dangerous mold problem. Mold is common in Northern Alabama homes due to our climate, but Custom Pest Control provides several mold remediation services that can protect your family's health.
Our Mold Remediation Services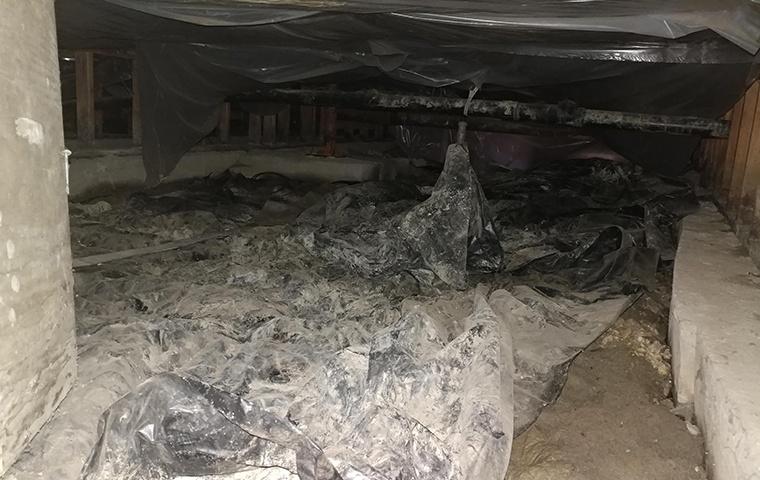 Insulation Removal
Insulation is often one of the first things affected by moisture. Once it gets wet, it holds that moisture in. Mold can easily develop in these situations. Furthermore, water-logged insulation does not properly do its job. Not only will your family suffer potential health problems, but you'll also pay more in energy costs.
If your insulation is compromised, Custom Pest Control offers insulation removal services, and we will take out the damaged insulation in your crawlspace.
Sump Pump & Dehumidifier Installation
Simply removing damaged insulation will do nothing to prevent moisture from building back up later. You need to eliminate your moisture problem at its source. Custom Pest Control offers sump pump and dehumidifier installations in your crawlspace.
Sump pumps are ideal for crawlspaces that have problems with standing water. Dehumidifiers are perfect for crawlspaces that have excess moisture.
Mold Control Treatment
For areas that have already started developing mold, it's essential to remove that mold safely. Allowing someone without adequate training to perform this task can end up making the mold spores spread, which only increases the problem.
Custom Pest Control performs chemical control treatments to eliminate the mold in your crawlspace and other areas. We use products that kill mold and keep it away.
Encapsulation
In some instances, when other treatments aren't working, a crawlspace encapsulation is necessary to eliminate moisture and mold problems in your crawlspace. Custom Pest Control will encase your crawlspace in thick plastic to stop moisture from getting inside.
Request Your Free Inspection
Complete the form below to schedule your no-obligation inspection.