The Problem With Finding Mold In Your Huntsville, AL Home
December 15, 2021
You've probably heard of black mold and how dangerous it is, but the truth is there are many different types of mold you have to worry about. Below are is a list of six different types of mold that can be found indoors and what they may look like:
Fusarium- commonly found in plant soil, inside drywall, and underneath carpeting. It is pink, white, or read and spreads quickly.
Chaetomium- caused by sewer water damage and has a similar texture to cotton with white or grey color but turns to black over time.
Stachybotrys- also known as the black mold. It has a dark green or black color with a slimy texture.
Penicillium-caused by water damage and has a blue-green color with a velvety texture.
Aspergillus- can form thick layers on walls and appear in various colors depending on the species.
Alternaria- commonly found around showers and bathtubs. It has dark green or brown hairs and a velvety texture.
Different types of mold are toxic at different levels. Many can cause asthma, allergies, respiratory issues, and more. Because it can be difficult to identify different types of molds, it is best to treat all molds as dangerous. As a Huntsville resident, you should know what causes mold and what to do if you find some in your home.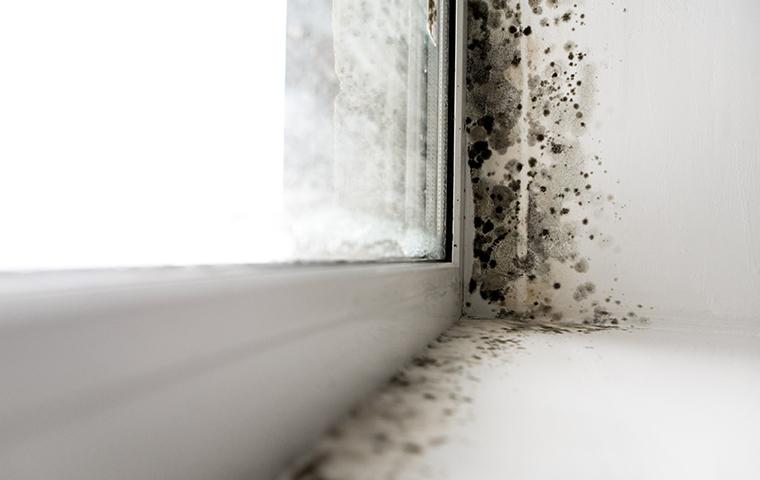 What Causes Mold?
It's well-known that moisture causes mold and that it commonly happens in bathrooms when water is left to sit and there is no proper ventilation. But mold can occur in other areas of the home too, which is why you should know what can cause these dangerous spores and how to prevent them.
Flooding And Leaks: If this does occur on your property, you need to remove moisture and anything that has been damaged, such as drywall, insulation, and flooring.
Backed-Up Sewers: We probably don't need to explain this one too much, but just like leaks, you need to remove anything that sewer water has touched.
Humidifiers: While humidifiers are essential to keeping moisture from building up in your home, they can become a problem if you don't clean and service them correctly.
Steam From Baths And Showers: Make sure your bathroom has a working bathroom exhaust fan to remove moisture. It would help to wipe down your shower and bathtub, so water doesn't stand for too long.
Poor Air Circulation: While the bathroom is a hotspot for mold, you should ensure that air is properly circulating throughout the entirety of your home.
What Do I Do About Mold?
Once the mold is inside, you should wipe down hard surfaces and wash porous materials with soup, water, and diluted bleach. Plus, contact Custom Pest Control at the first sign of mold because mold is dangerous to your health. Our mold remediation services include:
Insulation removal as insulation is often affected by moisture and can hold water.
Sump pump and dehumidifier installation will help eliminate moisture.
Mold control treatment to remove mold safely.
Encapsulation is when we encase your crawlspaces in thick plastic to stop moisture from getting inside. This process occurs when other treatments aren't working.
While mold does not seem like an immediate threat, the exact opposite is true. This is why you should contact us at Custom Pest Control for expert mold remediation. So don't wait; call us at the first sign of mold to keep you and your family safe.